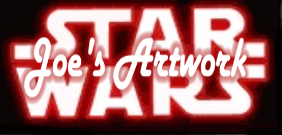 Gallery - Wants List - Trades - Links - Feedback

Hi, thanks for dropping by. This is my humble website. I am a Star Wars
fan and collector. If you are also a SW fan, and would like to be more a part of the
Star Wars universe, then you've come to the right place.

I want to draw you as a Jedi, Sith or maybe an alien. It doesn't end there. I'll
even make you a G.I. Joe character or draw your favorite Transformer. You
decide the subject, I'll let you know if it can be done.

All you have to do is email me a good picture of your face and a decent one of your
body. We can then discuss how you would like to look and share ideas.

In return for a drawing I am asking for at least one figure that I need from my wants
list. I do ask that they are on U.S. cards and at least in mint condition.
Trade will be planned before and conducted after you approve the drawing.

See some of my examples in the Gallery. Normal drawings are done on a 8.5"x11"
blank white paper. However, I can also use 18"x12" size paper upon request.
For a larger drawing, please email me for details.




Remember September 11th, 2001




For details or to send a request email
joewhite109@aol.com.



The artist formally known as Joe!


Visitor


Since Aug. 29, 2001




Website created by
Atomic


If there are any problems with the website, or you have any questions, comments, or would like to link up with this site, email joewhite109@aol.com.
- Gallery - Wants List - Trades - Links - Feedback -
© 2001 Estreluna Designs. All rights reserved.
All artwork within this site is property of © Estreluna Designs and Jose M. Jimenez III and may not be used in any way without written permission by Jose M. Jimenez III.